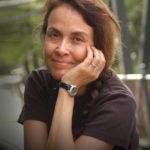 3pm on 9/9. Resident of San Antonio, Naomi Shihab Nye was a longtime visiting writer at the Michener Center for Writers and a longtime friend of the Ann Richards School for Young Women Leaders, and is a fan of many Austin writers.
She is now on faculty at Texas State University in the Creative Writing Program and also continuing her travels as visiting writer far and wide.
Her most recent book VOICES IN THE AIR – POEMS FOR LISTENERS and some poems from two forthcoming books will be featured during this poetry reading/conversation.