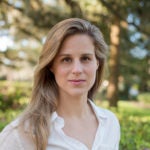 6PM
Thursday, October 10, 2019
Harry Ransom Center
Tell us you're coming on Facebook
We are thrilled to have Lauren Groff for a reading at the Ransom Center on October 10th. She is the author of numerous books including Fates and Furies, which was a finalist for the National Book Award, the National Book Critics Circle Prize, and was a New York Times Bestseller. It was President Barack Obama's favorite book of 2015. Groff is also the author of the recent and acclaimed short story collection Florida. 
"Lauren Groff is a great storyteller . . . Florida is restorative fiction for these urgent times. Its final gestures, even the most ominous . . . lean toward love and the promise of good people, in not just this state but the world." –New York Times
Sponsored by the Michener Center for Writers and the Harry Ransom Center.
This reading is free and open to the public.